RF Products TEM Horn Antenna THA-380M60G / THA-380M70G
EMC Testing in the 5G/IoT Era!
The TEM horn antenna is an antenna for conducting a close proximity radiation immunity evaluation test (near electromagnetic field immunity test) of electromagnetic waves radiated from various wireless transmitters such as mobile phones and Wi-Fi equipment.
In the future, the close proximity radiation immunity evaluation test using the TEM horn antenna is expected to expand to various product standards such as medical equipment (IEC 60601-1-2) and multimedia equipment (CISPR 35).
NoiseKen's TEM horn antenna has a wide band, low VSWR, and wide electric field uniformity, offering an ideal solution for an efficient close proximity radiation immunity test.
*This product is based on research results of the National Institute of Information and Communications Technology (NICT), Japan and joint-research with Noise Laboratory Co., Ltd.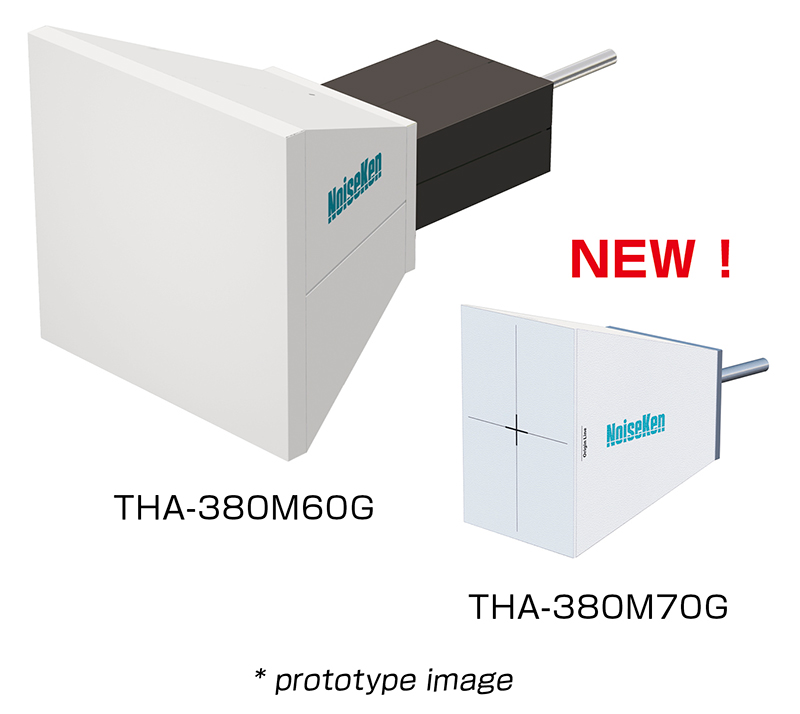 RF Products
Specifications
THA-380M60G
THA-380M70G
Parameter
Specifications
Compliant standard
IEC 61000-4-39
Frequency range
380 MHz - 6 GHz (8 GHz) * over 6 GHz not guaranteed
380 MHz - 7.125 GHz
VSWR
below 3 (refer to Figure "VSWR")
below 3 (refer to Figure "VSWR") * over 6 GHz not guaranteed
Input power
380 MHz - 750 MHz:180 W MAX
750 MHz - 1.7 GHz:100 W MAX
1.7 GHz - 6 GHz:65 W MAX
380 MHz - 7.125 GHz:100 W MAX
Electric field uniform area
refer to figure "Electric field distribution characteristics"
Required power
refer to figure "Power required for generating 300 V/m (typ) (at 0.1 m)"
Impedance (typ)
50Ω
Connector
N (J)
Dimensions
W450 mm x H420 mm x D598 mm
*excluding protrusions, excluding φ22 antenna support pole
*refer to the below figure "Dimensions" for the details
W225 mm x H324 mm x D309.5 mm
*excluding protrusions, excluding φ22 antenna support pole
*refer to the below figure "Dimensions" for the details
Weight
approx.3.2 kg
approx.1.6 kg
Catalogs and Technical Materials