Automotive Transient Surge Simulator(ISS/JSS) DC Power Supply Voltage Fluctuation Simulators SG-7040A System
Simulator to reproduce power supply voltage fluctuation to electronics devices in a vehicle and evaluate the immune resistibility against the fluctuation.
Max. 4 channels not only +B connection but also ACC, IG (and IG2), etc. can be synchronized for the reproduction.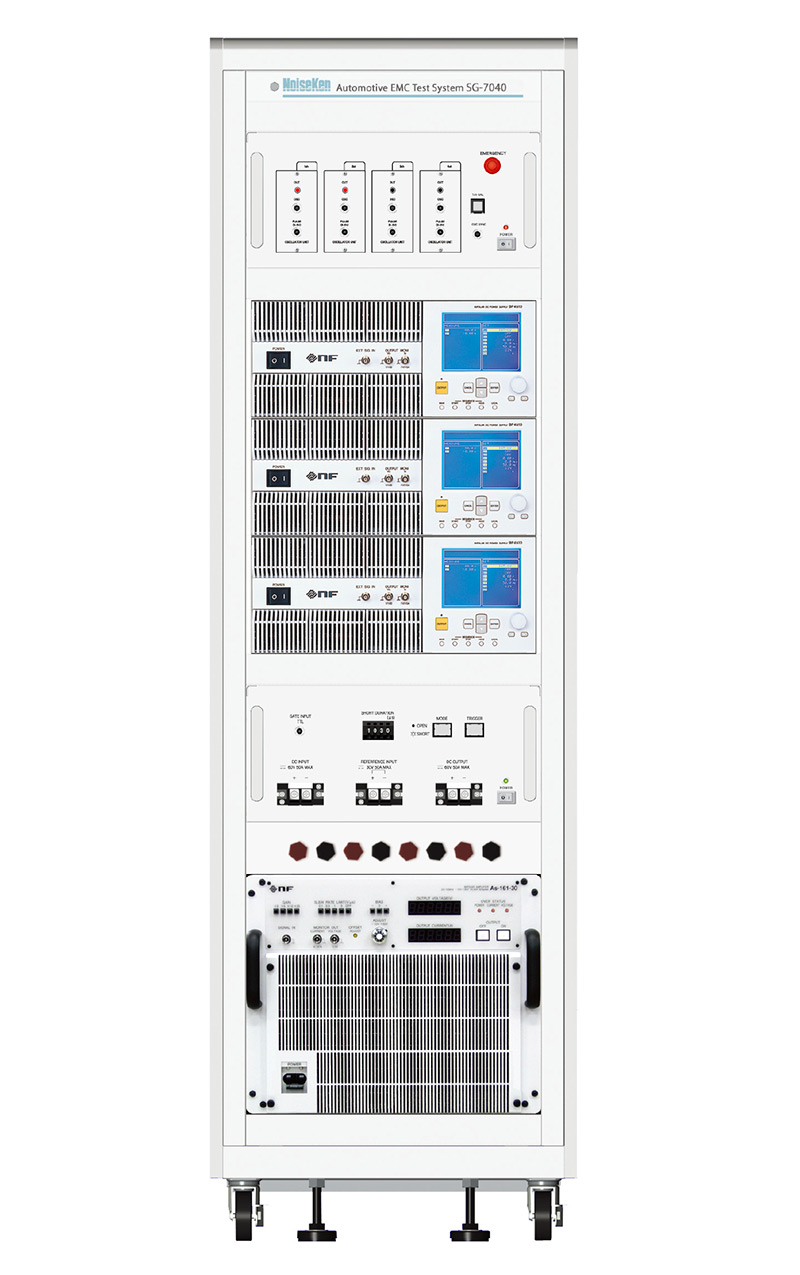 EMC Testing
Specifications
Parameter
Specifications / Functions
Channel Number
1 ch 〜 4 ch
Oscilloscope Trigger Output
BNC Connector 0 〜 5 V
Set the desired point as the trigger point with the waveform creation software and monitor waveform generation with the external trigger function of the oscilloscope.
Waveform Generator Method
Sampling waveform output based on partial waveform memory and DSP circuit output CSV data
Output Voltage
0.00 〜 ± 6.00 V
Output Current
5 mA Max.
Output Impedance
50 Ω
Setting Resolution
0.01 V
Output Resolution
1.221 mV
Offset Voltage
± 6.0 V
Frequency Response
150 kHz Max. (± 6.00 V Amplitude Sine Wave)
Characteristics
150 kHz Max. (± 6.00 V Square Sine Wave)
Frequency Precision
± 20ns + 50 ppm (over the entire frequency rang)
Waveform Rise / Fall Time
Less than 100ns (0±1.00V Swing)
Slew Rate
20 V /μs
Synchronization accuracy
Adjustable at a step of 1.0uS up to 10uS, to compensate differences in response time of the amplifiers connected.
Synchronization with <1.0uS accuracy at the outputs of the bipolar power amplifiers connected.
Calibration Output
1 kHz 1V (Test Use)
PC Interface
USB 1.1
Operating Temperature
25℃ ±10℃
Operating Humidity
20 〜 90% RH
Drive Power Source
Local AC supply voltage ±10% 50 / 60Hz 15 VA
External Dimensions
approx. (W)430 x (D)400 x (H)200 mm
Weight
approx. 10 kg
■Accessories
| Item | Q'ty |
| --- | --- |
| Coaxial cable (BNC-BNC/2m) | For number of channel |
| Output cable (1m) | For number of channel |
| Crimping terminal (M4) | For number of channel × 2 pcs. |
| Crimping terminal (M6) | For number of channel × 2 pcs. |
| Crimping terminal (M8) | For number of channel × 2 pcs. |
| Fuse (3.15A) | 1 pc. |
| Application software | 1 pc. |
| AC cable | 1 pc. |
| USB cable | 1 pc. |
| Instruction manuals (for main unit and software operation) | Each 1 volume |
| Accessories bag | 1 pc. |