Impulse Noise Simulator (INS Series) &nbsp Injection Unit MODEL : IJ-4050
Unit allowing noise injection to power supply lines of EUT up to 3-phase 5 lines (L1, L2, L3, N, PE) in combination with main units of INS series. Setting for Normal mode and Common mode is simple and easy with change of the connectors configurations.
In case of the combination with INS-4020 / 4040 / S220, test synchronized with EUT lines can be conducted.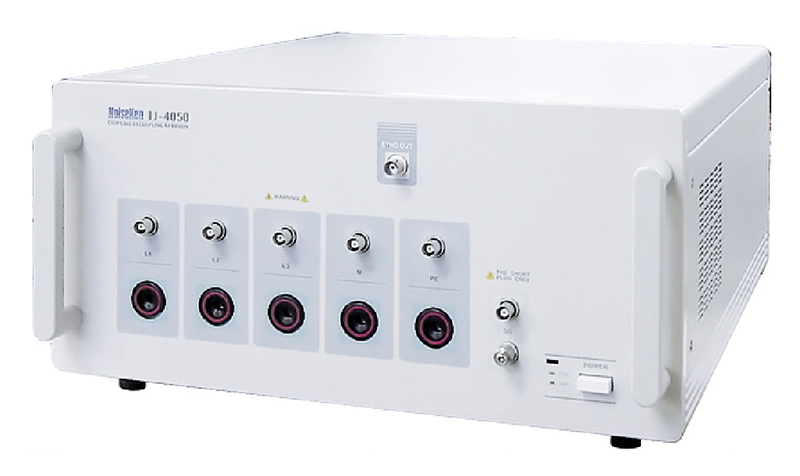 EMC Testing
Specifications
Parameter
Specifications
Input impulse voltage
Max. 8kV without 50Ω termination Max. 4kV with 50Ω termination
EUT power capacity
3-phase 5 lines (L1, L2, L3, N, PE) AC415V 50A (Unavailable for DC)
AC415V between L1-L2, L2-L3, L3-L1 AC240V between L1, L2, L3 – N
Injection phase switching
By coaxial connectors L1, L2, L3, N, PE
Coupling modes
Normal / Common (Setting with short plug connection)
Zero cross detection
Detects between L1 – L2 and outputs the synchronization signal from SYNC OUT terminal
EUT line protection circuit
Detects current in L1, L2 and L3 lines and breakes L1, L2, L3 and N lines
EUT line input terminal
Terminal block, screw connection
EUT line output terminal
Exclusive contact for φ6
Coupling Attenuation
characteristics
≦-10db 10kHz~1GHz without load
Residual voltage at input
≦450V Residual voltage without load when 4000V impulse is injected with 50Ω termination
Termination resistance
N/A (Termination resistance in Impulse Noise Simulator is applied)
Power supply
AC100V~240V±10% 50 / 60Hz 20VA Max
Operating temperature
/ humidity range
15~35℃ 25~75%
Dimensions / Weight
(W)430 x (H)199 x (D)535mm (Protrusions excluded) / Approx 25kg
Impulse Noise Simulator (INS Series) Options