Product Information ESD Simulators Product Overview
NoiseKen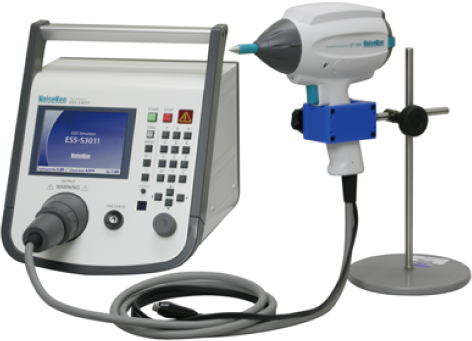 ESD Simulators Product Overview
Static electricity is generated along objects moving and the objects consist of electric configuration of plus and minus. When this configuration falls into disorder and inclines to the one polarity, the static electricity is generated and this phenomenon is called as electrification. The electrification is generated as result of contact, rubbing and exfoliating mainly.Also, there is one another phenomenon which is called as inducedelectrification in the meaning of the static electricity.
In addition, although sometime, spark phenomena which may be generated when taking a sweater off and touching onto a door knob of a vehicle in dry condition are called as static electricity as well, it should be called as "Electrostatic discharge (ESD)" correctly. In our ordinary lives, 30kV electricity can be easily generated only with putting shoes on and walking on a carpet.
"Noiseken" ESD simulators can reproduce and simulate the ESD from a charged human body intentionally for testing whether electronic equipments become malfunctioned or work correctly with the ESD influence, and the simulators conform to IEC61000-4-2 Standard which is standardized by International Electrotechnical Committee (IEC).
The malfunction mechanism is, when the ESD is realized to an electronic equipment, surface current flows on the body surface and the electric potential rises up. Consequently, electric potential of GND fluctuates and the subsequent electric/magnetic noises are generated. The noise flows into the inside and causes the malfunction due to coupling with the circuit (Please refer to the following figure). Since the phenomenon can be easily generated frequently, the test should be requisite to electronic equipments.
ESS-S3011A & GT-30RA
•Smart ESD simulator which supports all phases of the test (Pre to Post)
•Output 30KV
•EN/IEC 61000-4-2 Ed2 & ISO 10605 Ed2 Compliant
Target or potential customers
Consumer products (white home appliances, AV equipment, etc.)
Industrial equipment (FA machines, controllers office machines, etc.)
Industrial equipments (Medical, entertainment, measurements, etc.)
Automotive equipmentst (Navigation, air-conditioner, audio, etc.)
Communication equipments (Cellular phone, mobile devices, etc.)
Elevating machines (Elevator, escalator, etc.)
Materials (plastic resin, film board, etc.)
Electronic component (Control board, mounted electronic components, etc.)
Electric or electronic equipments and devices demanded for EMC tests
As antistatic paint penetration test in the manufacturers
As film destructive test in manufacturers who produce gold foils and hologram seals
Manufacturers of protective parts against the ESD
For measurement test in software makers who are developing simulation softwares of ESD
Connector manufacturer
IC card developing manufacturers
Test standards
IEC61000-4-2
ISO10605
Individual industrial standards
Private standards by manufacturers