Electrostatic Discharge Simulator (ESS series) ESD SimulatorESS-B3011A & GT-30RA
Cost-oriented Basic model
Cost-oriented basic model ESD Simulator equipped with the light weight discharge gun.
The output voltage can be selected up to max. 30 kV and compliant to both EN / IEC 61000-4-2 Standard and ISO 10605 Standard.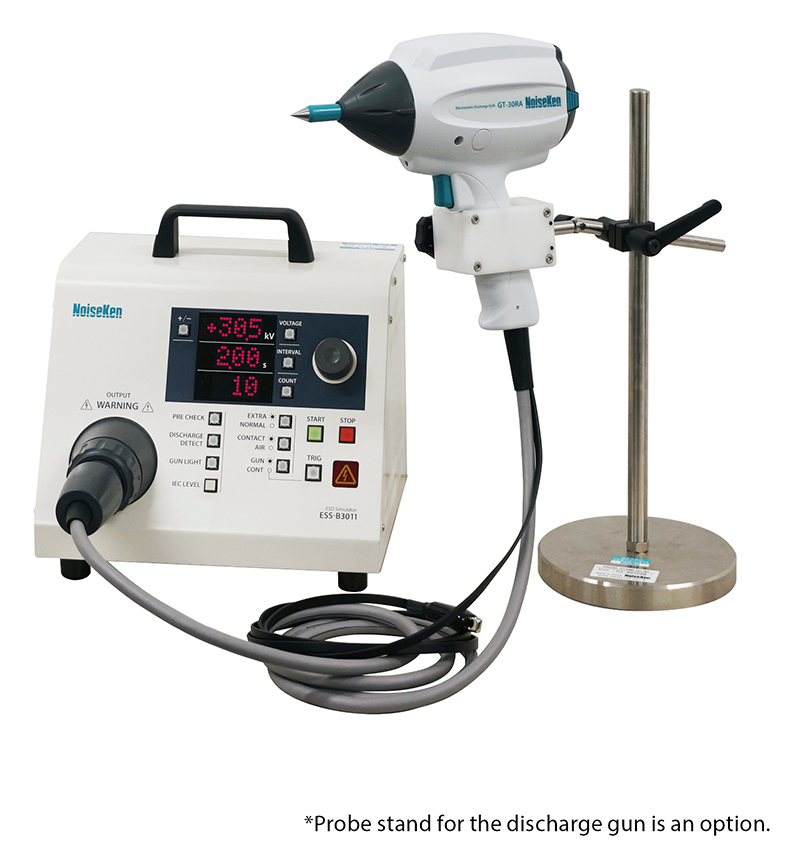 EMC Testing
Features
● "Pre-checking function" tfor performing a more reliable testing
● "CR constant checking function" (no indicator) to prevent incorrect unit attachment"
● "Discharge Detecting Function" to realize the air-discharge confirmation.
● "Lightest Discharge Gun in the market" to lighten the continuous operation.
● "White LED Irradiator" to facilitate the visualization of the discharging area.
● One-touch exchange of gun head and CR unit realized
* ISO 10605 compliant test performable with addition of the gun head and CR units (only with ESS-B3011A)

■Discharge output waveform (IEC Standard)

Specifications

Parameter
Specification
Model
ESS-B3011A
Output voltage
0.20 kV ~ 30.0 kV ± 5% (30.5 kV max)
*0.20kV ~ 1.99kV ±10% 2.00kV ~ 30.0kV ±5%
~ 10.0kV : 0.01kV step 10.0 ~ 30.0kV : 0.1kV step
Polarity
Positive / Negative
Repetition cycle
0.05s ~ 9.99s ± 10%, 0.01s step / Manual
Discharge No. of times
1 ~ 999 times, Preset 1 time step or continuous preset
Discharge mode
Contact discharge / Air discharge
Trigger mode
Gun trigger / Main trigger
Operation panel
Indicator : 5 x 7 Dot matrix LED / Operation : Push buttons (Partially lighting)
Radiation mode select switch
Extra / Normal switching function built-in
Discharge detection
Discharge detection function in air-discharge equipped.
Pre-checking function
High voltage output checking function
(by user operation. Not the calibration but just checking)
CR & Gun head
checking
CR constant and gun head recognizable
(to prevent the wrong combination without indicator)
IEC LEVEL
Contact discharge mode : 2.0 kV, 4.0 kV, 6.0 kV and 8.0 kV step
Switching function
Air discharge mode : 2.0 kV, 4.0 kV, 8.0 kV and 15.0 kV step
Warning lamp
Lighting at voltage output from the generator.
Blinking at electro-static discharging
Charge capacitor / resistor
150 pF ±10%, 330 Ω ± 10% (Built-in CR unit for discharge gun GT-30RA)
Charge resistor in generator
10 MΩ (Totally 53 Ω in combination with 43 MΩ in discharge gun)*
Power supply / consumption
AC 100 V ~ AC 240 V ± 10% 50 Hz / 60 Hz 62 VA
Dimensions
Generator : (W)270 mm x (H)263 mm x (D)200 mm
Discharge gun : (W)83.3 mm x (H)217.2 mm x (D)229.3 mm
Weight
Generator : Approx. 4.6 kg
Discharge gun : Approx. 800 g (excluding cable and connector)

* Remote control function not built-in.

* The constant depends on combination with CR unit for the discharge gun.