Lightning Surge Simulator (LSS) &nbsp For Lightning Surge Simulator CDN UNIT (AC600V / 300A)
This equipment can be combined with the LSS-F03 series lightning surge simulators to perform noise superimposition tests on three-phase four-wire (L1, L2, L3, N) lines up to AC600V / 300A.

* This product is a custom product. Please contact us for details.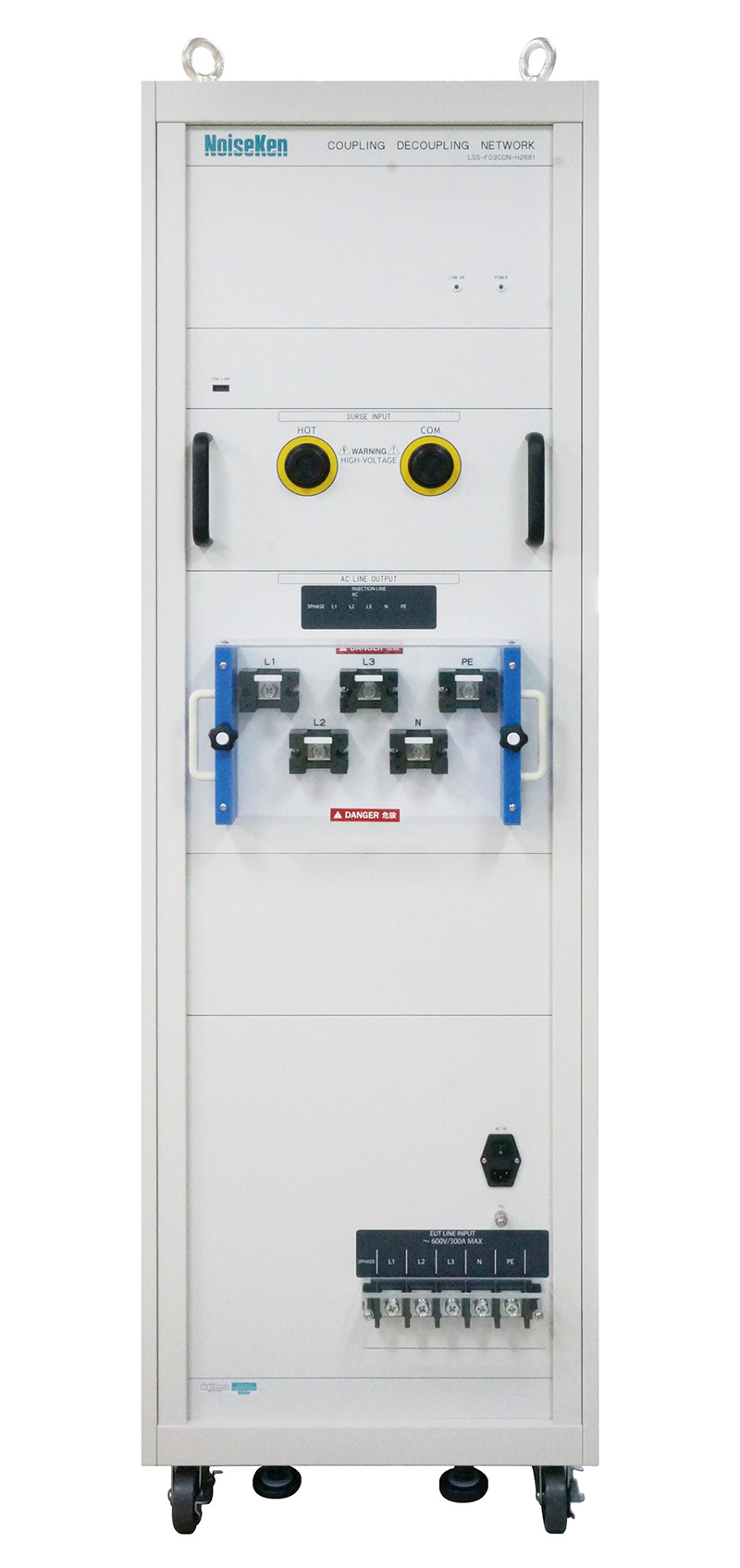 EMC Testing
Specifications
Parameter
Function / performance
Note
Allowable input surge waveform
1.2/50μs-8/20μsCombinatiozn waveform
Maximum coupling surge voltage/current
Up to the max value that can be set
Coupling circuit
IEC 61000-4-5 compliant
18μF±10%
Line-to-line
10Ω+9μF±10%
Line-PE
AC superimposition part
Output waveform
Open circuit voltage:0.5kV〜15kV ±10%
Wave crest length:1.2μs±30%
Wave tail length:50μs+10μs /-25μs
Short-circuit current:250A〜7500A ±10%
Wave crest length:8μs±20%
Wave tail length:20μs±20%
Coupling circuit:18μF
Decoupling coil:1.5mH
Cable length:0.5m on one side
Setting is possible from 0kV
Line input side open
Open circuit voltage:0.5kV〜15kV +10/-20%
Wave crest length:1.2μs±30%
Wave tail length:50μs+10μs /-40μs
Short-circuit current:41.7A〜1250A ±10%
Wave crest length:2.5μs±30%
Wave tail length:25μs±30%
Coupling circuit:10Ω+9μF
Decoupling coil:1.5mH
Cable length:0.5m on one side
Setting is possible from 0kV
Line input side open
Apply mode
Line-to-line
Coupling circuit:
18μF(10Ω+9μF selectable)
Line-PE
Coupling circuit:
10Ω+9μF(18μF selectable)
EUT power line configuration
Three-phase AC:L1/L2/L3/N/PE
EUT power line power capacity
AC600V/300A MAX 50/60Hz
Decoupling coil
1.5mH
External dimensions
W555 x H1800 x D790 mm
Lightning Surge Simulator (LSS) Options